Event Information
Wednesday, May 15, 2024
Eden Resort
8:00 am - 11:30 am
Making a Difference: Leading with Purpose, Passion & Pride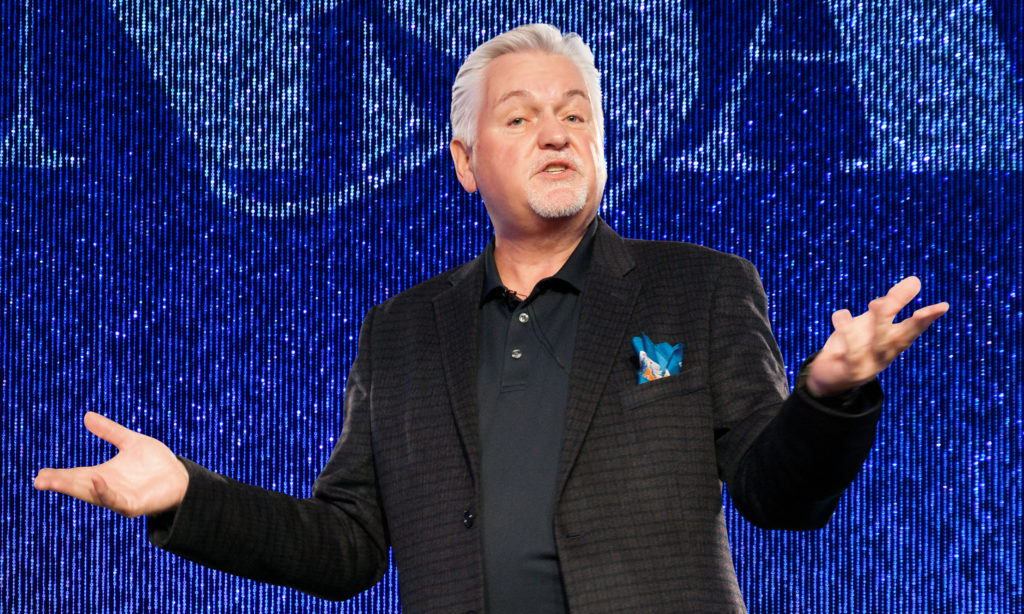 Steve Gilliland
Making a Difference
Inspiration
Focusing on the conscious choices we make every day that impact the lives of others, Making a Difference™ is an eye-opening and heartfelt keynote detailing how to positively influence people in every imaginable way, regardless of position or status. Each of us has the potential to transform the culture of an organization through our actions and attitude.
3 Empowering Dynamics
Purpose: It drives you!
Passion: It fuels you!
Pride: It defines you!
Takeaway Message
While we don't always know what challenges face the people we meet every day, we do have the power to bring them hope. That hope can multiply a thousand times over and spread throughout the world exponentially. This is the essential, motivating truth behind Making a Difference™!
---
A member of the Speaker Hall of Fame, Steve Gilliland is one of the most in-demand and top-rated speakers in the world. Recognized as a master storyteller and brilliant comedian, he can be heard daily on SiriusXM Radio's Laugh USA and Jeff & Larry's Comedy Roundup. With an appeal that transcends barriers of age, culture and occupation—plus an interactive and entertaining style—Steve shows audiences how to open doors to success in their careers, their relationships and their lives. Presenting to over 250,000 people a year, more than two million have now heard him speak, with audiences encompassing 51 industries. Steve has the distinction of speaking in all 50 states and in 15 countries. As one newspaper stated, "Steve is what happens when the humor of a stand-up comic collides with the inspiration of a motivational speaker."
In addition to his brilliant speaking career, Steve is a prolific, accomplished author, evidenced by six of his books—Detour, Enjoy The Ride, Hide Your Goat, Making a Difference, The Cherry on Top and Turn the Page — perennially making the publisher's bestseller list and his being named Author of the Year. His thought-provoking writing style makes his articles a favorite with prominent national magazines. He influences the lives of millions through his presentations, books, audio products and videos. An extensive array of these products has been utilized by small businesses, Fortune 500 companies, U.S. and Canadian government agencies, churches, school districts and nonprofit organizations. Speaking the language of active business leaders, his books and other resources identify practical lessons that grow people and their businesses.
Steve built a multimillion-dollar company from the ground up on the same philosophy he expounds to his audiences. If you continually learn more about your company, your industry, your customer and yourself, you will always be a leader. You will be purpose-driven rather than process-driven, and you will make a difference. His motto is straight­forward: "If you take care of people, the business will follow." He has been recognized by Who's Who for Speakers and Business Pro­fessionals, and The Pittsburgh Business Times named his company one of the fastest-growing privately held com­panies in the region. Steve also serves on the board of directors for a financial institution, and he and his wife Diane launched the Gilliland Foundation in 2017 to provide funding that creates lasting solutions for causes they are passionate about.
The Guarantee
Everyone who hears his message leaves with a renewed sense of enthusiasm for who they are and for what really matters.
Register Now
Date/Time:
05/15/2024
8:00 am - 11:30 am
Location
Registration
---
PARKING INFO AND DIRECTIONS TO:  The Eden Resort & Suites
GPS: 222 Eden Road, Lancaster, PA 17601
Guests can park in the main parking lot in front of our building. Once they walk into the lobby, the Courtyard entrance is right off to the left. If our front parking lot is full, we do have additional parking lots on the side of our building. Registration tables will be set up outside of the Courtyard ballroom, so attendees can pick up their nametags.
---
EVENT TIMELINE:
| | |
| --- | --- |
| 8:00 – 8:40am | Breakfast & Networking |
| 8:40 – 8:50am | Welcome and High Center Updates |
| 8:50 – 8:55am | Partner Profile (5 mins.) |
| 8:55 – 9:00am | Speaker introduction |
| 9:00 – 10:00am | Keynote speaker (Part 1) |
| 10:00 – 10:15am | Break & Networking |
| 10:15 – 11:15am | Keynote speaker (Part 2) |
| 11:15 – 11:30am | Q&A |